Oxford Commons Cinema Grill
206 Commonwealth Blvd
Oxford , MS 38655
662-638-0365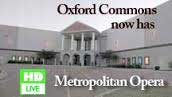 Outdoor Amphitheater Shows in SCREEN 9 are Weather Permitting

Monday - Jun 18, 2018
INCREDIBLES 2 contains a sequence of flashing lights which may affect customers who are susceptible to photosensitive epilepsy or other photo sensitivities.
Click times for Online Ticket purchases.
Four lifelong friends have their lives forever changed after reading 50 Shades of Grey in their monthly book club.
Screen 6



|
9:40 pm
Bob Parr (Mr. Incredible) is left to care for Jack-Jack while Helen (Elastigirl) is out saving the world.
Debbie Ocean gathers an all-female crew to attempt an impossible heist at New York City's yearly Met Gala.
During an adventure into a dark criminal underworld, Han Solo meets his future copilot Chewbacca and encounters Lando Calrissian years before joining the Rebellion.
Screen 3



|
10:00 pm
A small group of former classmates organize an elaborate, annual game of tag that requires some to travel all over the country.
Screen 4



|
9:40 pm