Malco in the News
Malco Theatres Plays Indie Movie - Oct 10, 2012,
MEMPHIS, TENN., OCT. 10, 2012 — /PRNewswire/ -- Jordan Van Vranken, a Memphis native who has found her way to the big screen, will premiere her new film, the indie feature After the Wizard, at Memphis' Malco Paradiso Theatre on October 27, 2012. After the Wizard screened at The International Family Film Festival in Hollywood earlier this year and opened in select theaters nationally. Read more here: http://www.heraldonline.com/2012/10/10/4326701/teen-actress-jordan-van-vranken.html#storylink=cpy
-------------------------------------------------------
2016 Obama's America was the perscreen average Champion - Oct 1, 2012,
Memphis, TN (AP) No matter how you slice it, the conservative documentary, "2016: Obama's America" stole Sylvester Stallone's thunder by running away with the per-screen average. If this were a boxing match, the announcer would have retorted that pound for pound this movie was this week's champion. "We certainly didn't anticipate the film opening to the degree it did," said Jeff Kaufman, senior vice president of Malco Theatres Inc., the Memphis-based chain that booked "Obama's America" into two theaters, the Wolfchase Galleria Cinema 8 and the Collierville Towne 16. He said the movie would move from the Wolfchase to the more centrally located and popular Paradiso theater on Friday, and also open on a screen at the DeSoto Cinema 16 in Southaven.
-------------------------------------------------------
Big Turnout for 'West of Memphis' Screening - Sept 12, 2012,
Memphis, TN (AP) — Nearly a year after the so-called West Memphis Three were released from prison, a new documentary is shedding new light on the case. The documentary, "West of Memphis," is bringing new insight to the case. "I know when they leave their life will be changed they are getting ready to see the truth," Mark Byers said. Byers son, Christopher, was one of three boys brutally murdered in 1993. He's seen the documentary "West of Memphis" several times before, but he's watching it again in Memphis. He's joined by more than 100 people at the Malco Paradiso theatre hoping for new insight in a case that's captured the attention of people all across the country. "For years and years I was convinced they were guilty now it's fascinating to say the least," Angela Young said. "It's interesting because there are so many conflicting stories and opinions about it," Laura Hernandez said."Some people are so against them and some people are so for them. Byers says new evidence uncovered in the film convinced him Damian Echols, Jessie MisKelly and Jason Baldwin are not the killers. "The real killer will be shown in this movie," he said. In the documentary, three new witnesses undergo polygraph tests. They say the nephew of Terry Hobbs, the stepfather of one of the young victims, told them his uncle was behind the murders. The film also tracked down several witness who admit they lied under oath. "Amy Berg (director) did an excellent job of getting behind some doors others couldn't get behind," Patrick Benca said. Benca is Damian Echols local attorney. He hopes the film ignites passion about the case because he says even though the men walk free, they are still guilty in the eyes of the law. "They're out but they aren't exonerated and that is our hope that this film will get us to the point of exoneration and really get people riled up about it again," he said
-------------------------------------------------------
Work begins on Gonzales bowling alley July 30, 2012, 6:58 a.m. CDT The Advocate
GONZALES, La. (AP) — An old Wal-Mart building in Gonzales is being turned into a 26-lane bowling alley and other family entertainment. The Advocate (http://bit.ly/OsIZKY ) reports that Malco Theatres Inc. of Memphis, Tenn., expects to have the new center open by the end of the year. Senior vice president Rick Bourgeois says the project has been in development for two years. He says it also will include a six-lane party center and a children's area with bumper cars, a laser maze and an arcade. Bourgeois says Malco will include four projection screens in hopes of attracting groups to watch LSU or New Orleans Saints football games. He says it also plans to add a movie complex, possibly as early as next year. Malco has four bowling alleys in Louisiana, including two in Baton Rouge.
--------------------------------------------------------
Memphis, TN July 21 2012 Batman movie plays on in Tupelo by Carlie Kollath/NEMS Daily Journal
Moviegoers file into the Malco Theater in Tupelo just before the 7 p.m. showing of "The Dark Knight Rises" on Friday. The company said it continues to "maintain a strong security presence" in all of its locations after the mass shooting in a Colorado theater early Friday morning. (C. Todd Sherman) TUPELO – It was business as usual at Tupelo's Friday screenings of the newest Batman movie. Many customers for the 12:45 p.m. showing at Malco didn't even know there had been a mass shooting in Colorado at the midnight premiere of "The Dark Knight Rises." The manager at the Tupelo Commons theater declined to comment about security precautions, but it appeared Friday that there weren't any additional measures. Customers bought tickets and then were directed to the proper theater. A Journal reporter didn't see anyone in costume, which might change for the evening screenings. Some theaters across the country are confiscating costume guns and are being cautious about moviegoers in costume. Malco corporate spokeswoman Karen Scott said the company on Friday was reviewing its security procedures. "Security has always been of major importance to Malco Theatres and we will continue to maintain a strong security presence in all of our locations," said Stephen Lightman, CEO of Malco Theatres, in an emailed statement. The Tupelo Police Department said it will continue regular patrols this weekend at Malco and Cinemark. Of the Tupelo customers who knew about the shootings, most said they were praying for the victims' families but they weren't going to let the shooter's actions stop their daily lives. "I don't think it's isolated to Batman or Superman films," said Jason Kirby, who saw the film Friday with his wife, Ellen. "It's because they're hellbent on destruction. They go where people are." Added Dee Craig, who saw the movie Friday with her grandsons, "I have concerns about that all the time. People are crazy." Vanterrius Westbrook of Tupelo didn't watch the new film Friday, opting for another comic book character's on-screen adventure. "I like Spider-Man better than Batman," he said. But, he had thought about the shootings before going to the movies. "I'm not worried about it because that stuff can happen anywhere," he said. Across the country, theaters have beefed up their security. Two police officers were stationed outside the AMC theater in New York's Times Square, which had showings beginning every 20 minutes Friday. Later in the day, the officers gave way to a police cruiser that was parked out front with an officer in it. At the Regal Gallery Place multiplex in downtown Washington, D.C., theater employees searched patrons' bags and purses while taking their tickets. Daily Journal reporter JB Clark and The Associated Press contributed to this story.
--------------------------------------------------------
Memphis, TN 6/29/2012 -- Malco joins with YoLo for Frozen Business
Malco Theatres, YoLo Form Partnership Malco Theatres and YoLo Frozen Yogurt have teamed up to offer self-serve frozen yogurt at the Paradiso Cinema and Malco Smyrna Cinema locations. Beginning Monday, July 16, patrons at both locations will have a new dessert option to accompany the current concession menu at the movies. Malco Theatres converted space in both locations that was formerly an Internet cafe into a "mini" YoLo Frozen Yogurt Shop. The partnership is based on a six-month trial with the University of Memphis, where YoLo successfully operates a store-within-a-store model. – Sarah Bake
Joneboro, AR 3/29/2012 -- The Hunger Games: Does the film live up to the book?
(The Arkansas Herald 3/29/2012 ) "May the odds be ever in your favor." If you've heard of "The Hunger Games," chances are you've heard that idiom before. If you haven't heard of "The Hunger Games," make sure you dust off your clothes a little after climbing out from under your rock. The story follows a young girl named Katniss Everdeen who is forced to fight to the death against other teenagers in what is known as the "Hunger Games." The tributes, as the fighters are called, are selected in a process called the "reaping," in which one boy and one girl are selected from each of the 12 districts of their dystopian country, Panem. The novel, written by Suzanne Collins, has sold more than 10 million copies to date. The popularity of the film adaptation of the novel was shown in box office sales this past weekend, as "The Hunger Games" took in the third largest box office opening weekend in movie history, pulling in $155 million. The top opening weekend in movie history belongs to last summer's "Harry Potter and the Deathly Hallows Part 2," with an opening weekend of $169 million. The second largest is 2008's "The Dark Knight" with $158 million. Does the movie compare to the thrills and suspense of the novel? For many of us fans, the film does a great job of capturing the best parts of the novel, but in other ways it might leave more demanding fans desperately wanting more. The Hunger Games" is shaping up to be one of the most successful films of 2012. The Malco Theatre in Jonesboro is currently showing the film and they offer online tickets on their website at www.malco.com.
Jackson, MS 4/12/2012 -- Crossroad film festival at Malco features lots of Miss.flavor
(Memphis 02/21/2012) Meander beyond moviedom's mainstream this weekend for a watch on the wild side. Or the mild side. Or the kids' side. Or the tuneful or the truthful side. Or more. Crossroads Film Festival's 140-plus independent films, including shorts and music videos, share the sort of personal, creative passions and threads that many big-screen staples can't. Many of them are our stories. Crossroads Film Festival hit a record in its 13th year, with about 70 of its film having a connection to the state, and more than 20 being shot here. "Oh my gosh, it's amazing," said festival co-director Nina Parikh, who's also with the Mississippi Film Office. "I couldn't believe it. And when we started the festival? We were probably showing about a total of 70 films, and trying to turn over every rock we could to find some Mississippian with a film. "And now we have 70 films with a Mississippi connection, and twice as many films as when we started." Those films will spread over three screens and three days at Malco Grandview in Madison.
MEMPHIS 2/20/2012 -- Combs to produce feature remake of Memphis football film 'Undefeated'

(Memphis 02/21/2012) Rapper turned music entrepreneur and entertainment mogul Sean Combs -- perhaps still better known as "Puff Daddy" or "P. Diddy" -- has signed on as an executive producer of a planned fictionalized studio remake of "Undefeated," the made-in-Memphis football film that has been nominated for an Oscar for Best Feature Documentary. Combs' involvement was announced Thursday by The Weinstein Company, which is distributing the film in theaters. "Undefeated" is set to open March 2 in Memphis at the Malco Paradiso. As part of the Weinstein deal, Combs also becomes an after-the-fact "executive producer" of the documentary. The Weinstein Company bought distribution and remake rights to "Undefeated" after the film's debut in March at the South by Southwest Film Festival. Inspired by a story in The Commercial Appeal, "Undefeated" was shot in Memphis in 2009 and 2010 by directors Dan Lindsay and T.J. Martin and producer Rich Middlemas, who also plan to direct the remake. The film likely will cast name actors as real-life Memphians, as happened with "The Blind Side," starring Sandra Bullock and Tim McGraw as Leigh Anne and Sean Tuohy. The documentary follows the once woefully underfunded and beleaguered Manassas High School football team for a season, as volunteer coach Bill Courtney and other mostly suburban fathers work to instruct the young inner-city players, both on and off the field.
MEMPHIS 2/21/2012 -- New Push For More Lights, Cameras and Action For Movies To Be Made In Memphis

(Memphis 02/21/2012) Bill Courtney is a Memphis football coach preparing not for the big game, but for the biggest night in entertainment, the Academy Awards. It's big deal, but Courtney's attention is not just on bringing home an Oscar for the documentary called 'Undefeated', he's also hoping to get it turned into a major motion picture filmed in Memphis, "To me it's paramount. It's a Memphis movie, it's a Memphis feel and it is a Memphis thing." Sign Up For ALERTS From Us 'Undefeated' follows the Manassas Tigers Football team, an underfunded and underprivileged football squad, as they reverse their fortunes thanks to Coach Courtney. The story is why entertainment mogul Sean 'Diddy' Combs signed on to be executive producer, but it faces an obstacle of whether the state of Tennessee could offer enough incentives to get it made here. Courtney said, "They'd like to make it in Memphis and I want them to capture what the essence of Memphis is, but we got to get our (state)government to say yeah we're going to be competitive with Georgia, Louisiana and some of these other states." The Memphis based story, 'The Blindside' was shot in Georgia, along with Memphis filmmaker Craig Brewer's remake of the recent 'Footloose' film because of tax incentives offered by other states. Ben Moore lives in Memphis and is a huge fan of movies, "We've missed quite a few recently in the movie industry and it would bring a good impact to the city, I believe." Jimmy Tashie is chairman of Memphis and Shelby County Film and Television Commission and executive vice president of Malco Theaters, "We get outgunned. Our incentive program is fairly weak. Now there is legislation in place to be voted on and enhance our incentive program that would go a long way and do a great deal and bringing back some of the films that we missed." It's why some hope 'Undefeated' will be a win-win scenario in the hearts of Oscar voters and eventually, state lawmakers in Nashville. Courtney said, "All I know is it's a Memphis story and Memphis stories need to be told in Memphis." Members of the Film & TV commission rallied at the Capitol in Nashville today in support of legislation designed to make the state more attractive to the film industry.
MEMPHIS 1/25/2012 -- Beat Beifuss at the Oscars
The 16th annual "Beat Beifuss at the Oscars" contest -- the event that gives you, dear reader, a chance to win TWENTY free tickets to Malco movie theaters -- begins today. Twenty tickets? At today's prices, that ain't hay! (Or perhaps I should say "It Ain't Hay," in homage to the 1943 Abbott and Costello comedy. [NOTE: This is probably the first time the terms "Academy Awards" and "It Ain't Hay" have appeared in the same article.]) Seriously, if you're a movie fan -- or even if you're not -- what have you got to lose? To win, you must outguess me when I predict the winners in ten top categories in the upcoming Academy Awards ceremony. My guesses will be printed in the newspaper and posted online the morning of Sunday, Feb. 26; the Oscars are awarded that evening. The deadline for entry is essentially midnight, the Friday before. Ten winners will be chosen at random from among those who beat me (if more than 10 do, in fact, beat me). Each of those winners will receive 20 Malco movie tickets. Rules and entry form are here.
MEMPHIS 1/10/2012 -- Get Pinned at the Malco
Theatres, Inc. will be selling Gold Heart Pins to benefit The Variety Club, an organization devoted to helping underprivileged and physically challenged children. The 31 Malco cinemas in Arkansas are among those participating in the Gold Heart Campaign. Moviegoers will be able to purchase collectible Yogi Bear Gold Heart pins for $2 each. Proceeds will go directly to U.S. Variety Club to benefit the National Mobility Program. It sounds like a great way to do very little to help a whole lot.
MEMPHIS 12/31/2011 -- Malco sells 80,000 bows for $1 each
Malco Theatres announced their annual Wrapped with Love campaign sold 80,000 bows in four-weeks during the 2011 holiday season. The 80,000 bows sold is an increase of 7,000 bows from 2010. The program, which benefits St. Jude Children's Research Hospital, is in its 13th year and ran from Thanksgiving Day through Christmas Day at all Malco Theatre locations in Tennessee, Arkansas, Missouri, Kentucky and Mississippi. The bows were hand-made from actual film and sold by employees for $1 each. The materials and volunteer production hours for the bows were donated, so there was no cost to the theatres. Since 1999 the theatres have raised over $450,000 for St. Jude through the annual Kids Summer Film Fest and Wrapped with Love campaigns.
MEMPHIS 10/6/2011 -- Memphis Indie Film Festival Nov 3 -6 2011
The 14th annual Indie Memphis Film Festival is set for November 3-6, 2011, in Midtown Memphis at the Playhouse on the Square, the Studio on the Square and the Brook Museum of Art. With a focus on regional filmmaking, the Indie Memphis Film Festival screens a broad range of dynamic and engaging independent features, documentaries and short films from across the country, and provides a showcase for new work by Memphis filmmakers. The festival inspires and connects, transforming the city best known as "the home of the Blues and the birthplace of Rock 'n' Roll" into a connecting point for filmmakers, artists and audiences.
MEMPHIS 9/6/2011 -- A Memphis theater is outselling all others in the country when it comes to ticket sales for the number one movie at the box office.
"The Help" has been number one for three weeks, and more people are seeing it at MALCO Paradiso than anywhere else. "I think it's important for our children to see it," says Marla Wilson who saw the movie at the Paradiso.
Mississippi Boulevard Christian Church held a panel discussion about "The Help" Tuesday. The panel included Memphian Florence Roach who played a maid in the film. She joked she delivered the most memorable line in the film, her one and only. This is her sixth film, and it's certainly her biggest.
She's heard the criticism from some who say the movie deals with such a horrific period in our history with too much of a humerous bend. "I think I understand where the anger is coming from. It's hurtful for us to look at our history that way, but it is history," she says. "It's real. It's not made up."
Commercial Appeal Movie Reviewer John Beifuss was also on the panel Tuesday. He says blockbusters that deal with race are sometimes "feel good movies for white people." He says "The Help" has some aspects of that, but he feels the film does a good job of dealing with racial issues. He also points out "The Help" doesn't end with a feel good moment.
9/5/2011 - Malco Theatres to Complete Full-Scale Digital Cinema Deployment with 120 More Barco Projectors
Barco , Guinness World Record Holder for the brightest DC projector, has been awarded an order for another 120 projectors, completing Malco's conversion of its entire circuit to digital.

Expanding upon its long-term partnership with Malco, Barco will install both 2K and 4K models from among its wide array of projectors, the largest DCI-compliant offering in the industry. Malco will also install a dual-stack 4K projector at its flagship Paradiso cinema in Memphis, Tennessee to create a premium giant screen 3D experience for its loyal patrons.
"We've enjoyed a very successful history with Barco, collaborating with them on new features and serving as a beta site for emerging technologies, so we know we're getting the best and brightest projectors with the lowest total cost of ownership," commented Bobby Levy, Executive Vice President of Malco. "We are continually striving to elevate the cinema experience, and with Barco's outstanding projectors and support, we can offer our patrons the ultimate in movie presentation."
Malco is growing its digital cinema footprint with the help of Cinedigm's long-term VPF agreement via an exhibitor-buyer deal structure, which enables the exhibitor to recoup most of its costs – including financing fees – associated with the deployment. Cinedigm's VPF program also features the largest number of movie distributors of any program, enabling Malco and other participating exhibitors to maximize their VPF revenues.
"We're honored to complete Malco's digital cinema deployment and share their enthusiasm in becoming a 100% digital circuit so they can enjoy Barco's superior image quality, world-record brightness, 24/7/365 customer support, and the lowest total cost of ownership in the industry," commented Patrick Lee, VP Digital Cinema for Barco North America. Barco Contacts:
Posted August 14, 2011
"The Help," about a young white woman who writes a book about the struggles of a group of African American maids, opened on Wednesday in an effort to gain strong word of mouth before the crowded weekend. The move apparently paid off, as moviegoers who saw the film earlier last week loved it, giving it a perfect average grade of A+, according to market research firm CinemaScore. After the weekend, the movie's tally will stand at an estimated $35.4 million, a good start considering that DreamWorks SKG and Participant Media only spent about $25 million to produce it.
The picture, which is being distributed by Walt Disney Studios, did best with older women -- 60% of the audience was over 35 and 74% was female. The studios behind the film were hoping that it would resonate strongly with African Americans and in the South, as it takes place in Jackson, Miss. Indeed, the local theater in Jackson, the Malco Grandview 17, sold the second-highest number of tickets to the film of any theater in the country this weekend .
Posted July 28, 2011
Construction is under way on the long-planned remodeling of the Ridgeway Four, the oldest operating theater in the Malco chain in Memphis. The work essentially will reduce the theater to "the Ridgeway Three" for the next few months, as workers modernize the cinema, one auditorium at a time.
The Ridgeway's current "shotgun" seating arrangement will be replaced by one with larger seats in rows that "platform" upward for better viewing. The change will reduce the capacity of each auditorium from 300 moviegoers to to about 175.
The revamped auditoriums will lose seats, reducing possible attendance from 300 to about 175 moviegoers per screen. But the new seats -- in rows that "platform" upward for better viewing, in contrast to the current "shotgun" design -- will be more spacious and comfortable, and some "VIP" chairs will be fitted with mini-tables and improved cup holders to accommodate the theater's expandedmenu of beer, wine, sandwiches and salads, according to Malco executive vice president Jimmy Tashie."No matter how nice a lobby is, you walk through it in five minutes," Tashie said. "But you're going to spend two hours in those chairs."Not just the chairs, but also the movie screens will be enlarged at the Ridgeway. By eliminating one of the two emergency exits behind each screen and bringing the screen somewhat forward, Malco designers were able to make each screen about three feet taller and four feet wider, Tashie said.The new dimensions currently can be seen in Auditorium No. 1, where a new screen was installed, as a sort of test run, prior to the remodeling of the auditorium itself. (Currently, "The Tree of Life" is in Auditorium No. 1, to show off the larger screen format.)
Built in 1977, the Ridgeway Four is located at 5853 Ridgeway Center Pkwy. in East Memphis, in a building that also houses Malco Theatres Inc. corporate headquarters.The four-screen theater was a state-of-the-art facility when it opened. In retrospect, it can be seen as a sort of link between the classic old movie palaces of earlier decades -- as symbolized by the proud mural in the Ridgeway lobby, with its images of W.C. Fields, Betty Grable and Bela Lugosi -- and the increasingly boxy and cramped multiplexes of the 1980s and '90s, which eventually would be replaced by more luxurious multiple-screen theaters with big screens and "stadium" seating, as epitomized by the Malco Paradiso.Tashie said the remodeling, which began last week and will cost "well into the six figures," is being carried out methodically. He said when a refurbished auditorium is completed, it will be reopened and work will begin on the next auditorium. He said the work should be finished "by Thanksgiving, but hopefully in advance of that.""It's going to end up being a luxury cinema," Tashie said.For several years now, the Ridgeway has been the city's true "art" cinema, attracting a loyal audience of adult moviegoers apparently more interested in the theater's lineup of independent films, documentaries, and the occasional foreign-language film than in comfy chairs.Three of the movies nominated for the Oscar for Best Picture of 2009 -- including eventual winner "The Hurt Locker" -- opened exclusively in Memphis at the Ridgeway Four (the other two nominees were "An Education" and "A Serious Man"), as did 2010 Best Picture nominee "Winter's Bone."
Tashie said the "luxury" Ridgeway will continue to focus primarily on movies for grown-ups. However, he said some Hollywood commercial films and even some would-be blockbusters of the quality of the "Harry Potter" films, for example, will be on the schedule, "to take a little pressure off the Paradiso."
Posted: Thursday, June 16, 2011 8:59 am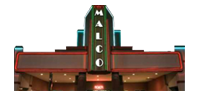 Malco Theatres Inc. on Friday will unveil four new movie screens recently added to the Fort Smith Cinema 12 at 1200 S. Waldron Road, according to a news release. The addition will make the facility a "state-of-the-art 16-screen megaplex," the release states. The expansion will open Friday, just in time for the release of Warner Bros. Pictures' "The Green Lantern." Theater manager Kyle Maynard confirmed the screens will be unveiled Friday but deferred to the home office in Memphis when asked for other details. Malco Theatres' marketing director, who sent the release via requested email, did not return calls or an email requesting further information. However, according to Fort Smith city records, a building permit was issued March 14 allowing for work at the theater's address valued at $650,000.
City Planning Director Wally Bailey confirmed the permit was for adding movie screens to the theater. According to the news release, Malco in Fort Smith boasts stadium seating and auditoriums outfitted with DLP Cinema and Dolby Digital Cinema, providing capability for both 3D movies and alternative content, including live events. As with the original 12 screens, each new auditorium also will be equipped with Klipsch speakers and Dolby Digital Surround EX featuring Dolby's CP650 sound processor, the release states.
Bobby Levy, executive vice president of advertising and marketing for Malco Theatres, stated in the release that Malco has been an integral part of the Fort Smith community for more than 50 years and is always looking for ways to improve its presence in the market. "We feel that this addition will give us an opportunity to offer a broader range of movies for our customers," he said.
Posted: Thursday, August 1, 2011 11:00 am
MADISON — Karen Evers gladly handed over $100 for a ticket to Saturday's benefit showing of "The Help" at the Malco Grandview theater in Madison. The No. 1 New York Times best-seller by the same name was, in some ways, the Ole Miss graduate's story, too.
"We had help," Evers, 49, said of growing up with a family maid in northeast Jackson. "We called her Jenny. She died of a stroke. "And it wasn't until my adult years that I realized that not only was I grieving for my father, who had died, but for my help."
She joined hundreds of curious onlookers and paying fans who all wanted to see "The Help," the story of a budding white journalist (Emma Stone) fresh out of Ole Miss in the early 1960s who convinces black maids Aibileen (Viola Davis) and Minny (Octavia Spencer) to risk their jobs and lives to give her a first-person account of domestic service.
More than $150,000 raised from ticket sales - the highest at $500 - benefits Baptist Town Community Development, said Bill Crump, a Baptist Town board member and director of governmental affairs/executive assistant to the president of Viking Range in Greenwood.