The Malco Gift Shop has the Perfect way to say Thanks. Questions? Call:1-800-467-6677.
MALCO POPCORN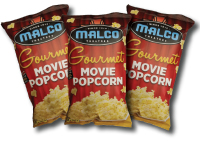 For over 100 years,

Malco Theatres has served up over one hundred million pounds of freshly-popped popcorn to moviegoers throughout the Mid-South. And now the authentic popcorn you crave is available in a convenient on-the-go bag!
Available in 3 Pak 5oz Bags and 6 Pak 2.25oz Bags
AND a Combo Pak with 3-5oz Bags and 3-2.25oz Bags.
There is a flat $5.00 shipping and handling fee for each order.
Please Notice Each Popcorn Order will result in a $5 shipping charge.
---
MALCO VIP TICKETS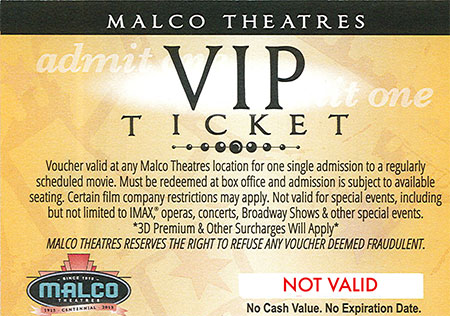 $500 per book of 50 tickets - $5 flat rate shipping

Everyone loves movies, so purchasing Malco discounted VIP movie tickets in bulk saves money everytime you buy them.
3D Glasses Premium payable upon redemption at the theatre box office
RELOADABLE GIFT CARDS
$5 flat rate shipping
Gift Cards are reloadable at any participating theatre box office
Unless otherwise requested, all orders ship via US Postal Service
Multiple orders to the same destination may be grouped together
Multiple denominations of value available: $10-$20-$30 - $40 ..all the way to $100
Gift cards can be applied towards tickets, as well as concessions at all participating locations.
MALCO CONCESSION VOUCHERS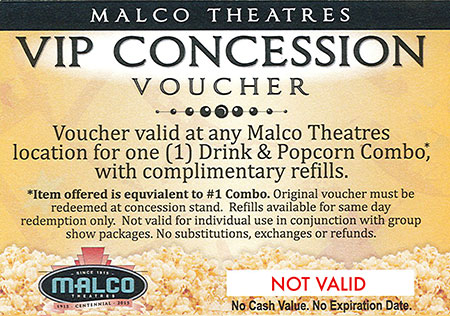 The best way to show your appreciation to employees, friend, family and loved ones: $500 per book of 50 concession vouchers. $5 flat rate shipping

Valid at any Malco Theatres location for one (1) Drink and Popcorn Combo with complimentary refills.