RESERVE A PARTY ROOM NOW!
To reserve a Party Room use this Online Form
Please be sure to fill out all contact information.
The Rental Fee deposit MUST be made within two days to secure your rental.
If you have read the information below you may START HERE.
Birthday Parties Are for 13 Years and Younger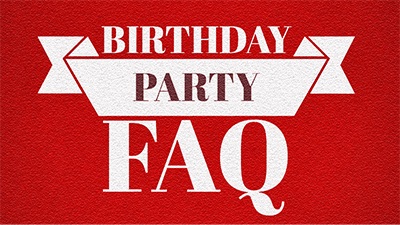 Birthday Party Plan 1

PARTY ROOM PLAN

$50 Reservation Rental Fee
Parties starting before 3pm: $12 per person for Birthday Package: ticket, drink, and box of popcorn
Parties starting after 3 pm: $14 per person for Evening Birthday Package: ticket, drink and box of popcorn
Minimum of 10 guests and a maximum of 25 guest per Birthday Party

Malco will provide:

Birthday Party Room
Birthday Party host
Tables with seating capacity for 10-25 guests
ALL YOU NEED TO BRING is the cake and paper products (plates, forks, napkins)

Birthday Party Plan 2

PRIVATE SCREENING PARTY*

(All 9:00AM &10:00AM Parties are considered PRIVATE PARTIES)

$125 Reservation Rental fee
$12 per person for Birthday package: ticket, drink and box of popcorn
Minimum of 25 guests and no maximum

Malco will provide:

Tables at front of auditorium
Birthday Party host
ALL YOU NEED TO BRING is the cake and paper products (plates, forks, napkins)
*Private Screening Birthdays have no maximum number, but there is a minimum of 25 people for this party. Private Screening Birthdays must begin at 9am at SELECT THEATRES only. Film usually starts as soon as everyone is seated with popcorn and drink. Your rental usually lasts until noon, but may need to end at 11:45 depending on start times of some movies. You will have a minimum of 30 minutes (maximum of 45) to open presents and eat cake after the movie.
The $50 (non-refundable) room reservation fee or $125 (non-refundable) private screening reservation fee must be processed within 2 business days after the reservation is made. On party day, arrive at the theatre, bypass box office (do not get tickets or wait in line), announce your group to Malco personnel, and set up in your party room. Most parties allow ten minutes for room set-up, as our party rooms are rented steadily on Saturdays. Guests will be directed to your room by Malco personnel. Drinks are brought to you upon arrival to enjoy with cake or cupcakes and presents. After food and cake, you can visit the arcade and play games. Your Malco host will take you into the auditorium to your reserved seating (you will not receive tickets). Popcorn is delivered and drinks are replenished before the movie begins. Seats are reserved in the middle of the auditorium on either side for easy access. At this time, parents are asked to gather and load personal belongings. Your group will not return to the party room following the movie. You will be given an invoice reflecting all remaining charges and final payment is made once the party is over.
Please read our FAQ's Sheet